When you grow up in the mountains the sea is something exotic and fuels youthful dreams of adventure…
My first sailing experience and competency were gained in the Irish Sea, sailing daily in the summer of 75 from the little fishing village of Skerries, north of Dublin. Fishing there has long since ceased, and the old corrugated steel Bingo hall is withering away. The chandlery, where we sat on rainy days on coils of rope to learn all about knots, the necessary theoretical stuff and seaman's yarn has been replaced by a fast food store. Rockabill lighthouse a few miles off the shore, where on occasion we would take a newspaper and some pastry to the wardens is automated now. But my love for sailing only grew over the years.
My first bluewater sailing certificate I got in the Baltic, in the summer of 95, sailing between Germany and Denmark. The weekend of the exam started out with a force eight, and by the time of the exam there was barely a breeze – which made all the required maneuvres very slow and difficult!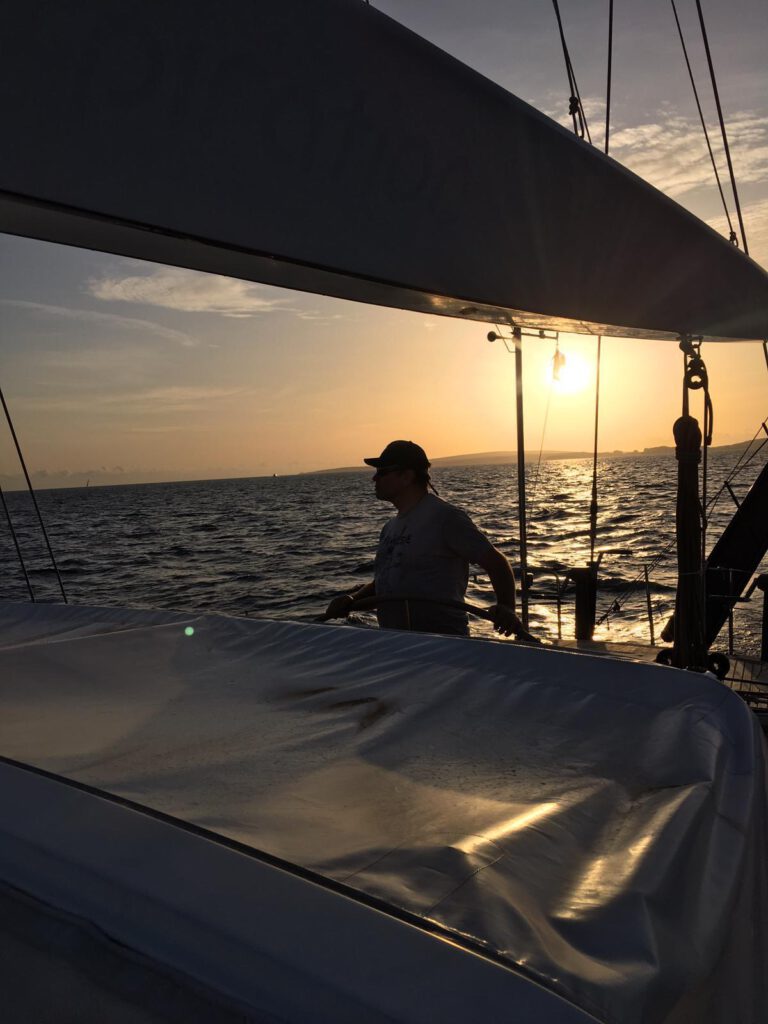 In the end it took a few years of gastric ulcers and burn outs in my chosen profession as ENT specialist until I was ready for fundamental changes in my career, in my life. I sold my private surgery and after taking courses in Cowes and sailing around the Solent, the channel and the English south coast, I became First Mate on a private motoryacht. She had a crew of ten, twelve guests, four decks… a proper ship! After the big financial crash in 2008 the crew had been laid off, since no charters were being booked and the ship had to undergo repairs. This was when I took up studies again, at the Nautical College of Bremen University in Germany. Drove tankers for a bit and again big yachts.
Until I decided to revisit the dreams of youth, go for the horizon, explore the world – following my family motto "ULTRA MARIA SEMPER TERRA" – there's always land on the other side of the sea! And while the first year of the pandemic made travel very cumbersome, I still kept looking at yachts from Denmark to Spain, from Portugal to Greece….even considering a few in far away places like New Zealand and Barbados! Heck, the delivery would have been the first bonus of owning my own yacht!
One day in Palma / Majorca looking at two other boats, I came across Nerio. My first thought was: this is the most beautiful yacht – that does not fit my bill! Then I was looking for a different layout, with a different purpose in mind. But she never left my thoughts and fueled my fantasies…..so I got her!
Let the adventure begin!